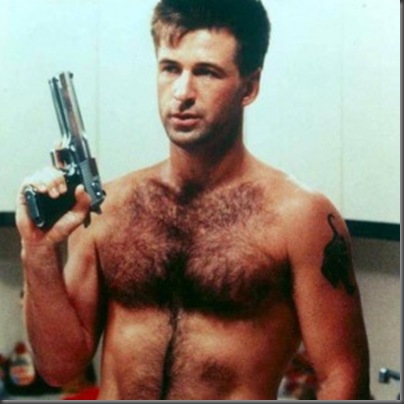 Alec Baldwin Looking Dangerous
Alexander Rae Baldwin III was born in Massapequa, NY and has had a prolific acting career.  He started in television making appearances in several series and played "Joshua Rush" for one season in the prime time soap Knots Landing.  Baldwin's big screen debut was in the comedy film Forever, Lulu.  He then captured the role of "Adam Maitland" in Beetle Juice, another comedy.  Great Balls of Fire!, the story of singer Jerry Lee Lewis, saw Baldwin in the role of bible-thumping teleavangelist Jimmy Swaggart.  He was "Jack Ryan" in The Hunt for Red October, "Lamont Cranston/The Shadow" in The Shadow, "Blake" in Glengarry Glen Ross and appeared in many more great films. He currently plays "Jack Donaghy" in the award winning TV comedy 30 Rock.
According to Alec Baldwin, "Acting in the theatre is fun, acting in film is work."  But you make is look so easy, Alec.