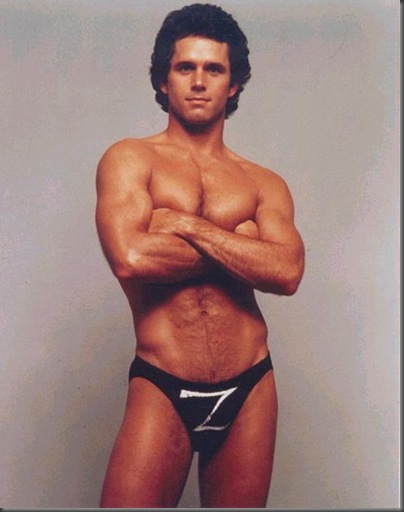 Gregory Harrison lookin' too sexy in his teeny Zkini
Gregory Neale Harrison was born in Avalon, Catalina Island, CA and is best known for his role as "Dr. George Alonzo 'Gonzo' Gates" on the television series Trapper John, M.D. He played the role from 1979 to 1985.  Harrison starred in the made for TV movie For Ladies Only as a male stripper.  When he appeared in the television miniseries Fresno, a parody of prime time soap operas starring Carol Burnett, Harrison used his character "Torch" to spoof the role he played in For Ladies Only by appearing shirtless at every opportunity.  He has made guest appearances on many other television shows such as Sisters, Safe Harbor,  Ed, Judging Amy, Joey, and, most recently, One Tree Hill.
Gregory Harrison said:  "I didn't study acting for nine years to become a hunk."  Sorry Gregory, but it seems to have happened anyway.  And we are really glad it did!