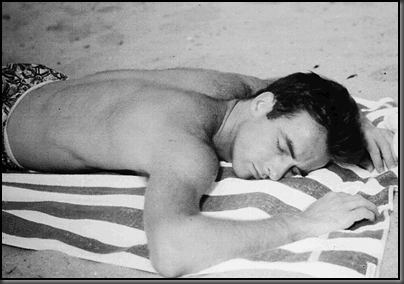 A shirtless Montgomery Clift finds his "Place in the Sun"
Edward Montgomery Clift, born in Omaha, NE, was a 4-time Academy Award nominated Hollywood star.  Three of his nominations were for Best Actor in a Leading Role in the films The Search, A Place in the Sun, with Elizabeth Taylor as co-star,  and From Here to Eternity, with Burt Lancaster and Frank Sinatra. His nomination  for Best Actor in a Supporting Role was for the film Judgment at Nuremberg, which starred Spencer Tracy and Burt Lancaster.  Some of Clift's other films were The Young Lions, co-starring Marlon Brando, Suddenly Last Summer with Katharine Hepburn and Elizabeth, Raintree County, also with Elizabeth Taylor, and The Misfits with Clark Gable and Marilyn Monroe.
When he arrived in Hollywood, Montgomery Clift said:  "I told them I wanted to choose my scripts and my directors myself.  'But sweetheart',  they said, 'you're going to make a lot of mistakes'.  And I told them, 'You don't understand:  I want to be free to do so."  Seems that he made few mistakes and a lot of great films.