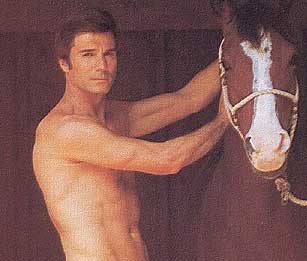 George Maharis lookin good with his horse
Handsome, vital, captivating George Maharis was born in Astoria, NY and started his acting career in off-Broadway theater. After  leaving New York and moving to Los Angeles Maharis appeared in a few television episodes before being cast as "Buzz Murdock"  on the series Route 66. He and fellow co-star Martin Milner, played characters who traveled around the country in a hot Corvette convertible.  Maharis left the show before the end of the third season to pursue a film career but, unfortunately, wasn't very successful.  He returned to television and was cast in several TV movies such as The Monk, Death in Space and Return to Fantasy Island.
After George Maharis left Route 66 the show lost its appeal and, unfortunately for him, so did he.