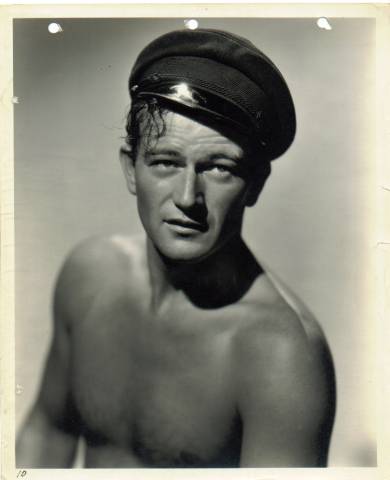 John Wayne showing his rugged handsomeness
Born in Winterset, IA, and named Marion Robert Morrison, John Wayne was the epitome of the rugged, handsome male.   In January, 2009 the Harris Poll ranked Wayne third as America's favorite film stars.  He is the only deceased star on the list and the only one to be on the poll every year since its beginning in 1994. His films number almost 200. Some of the best known may be Westward Ho, Reap the Wild Wind, The Fighting Seebees, , Fort Apache, Wake of the Red Witch, Hondo, The High and the Mighty, Sands of Iwo Jima,  Blood Alley, True Grit, Brannigan, Rooster Cogburn, and The Shootist. He won an Oscar and a Golden Globe Award for his lead role in True Grit.
John Wayne was quoted as saying, God-damn, I'm the stuff men are made of!"  Also, "I'm a demonstrative man, a baby picker-upper, a hugger and a kisser-that's my nature."  John Wayne-an all around real man.