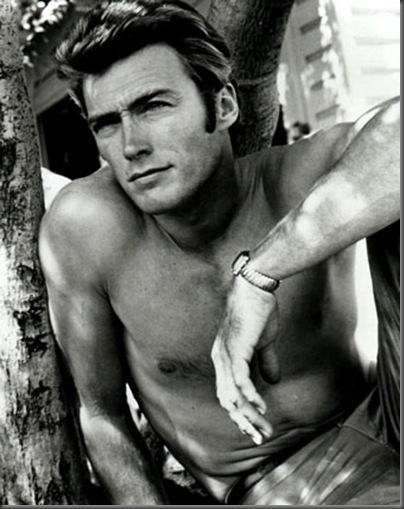 Clint Eastwood makes anyone's day when he is shirtless
Clint Eastwood, born Clinton Eastwood, Jr. in San Francisco, CA, really came to audience attention when he  played "Rowdy Yates" in the television western Rawhide.  He then became a Western film icon when he created the mysterious character "Man with No Name" in A Fistful of Dollars, For a Few Dollars More, and The Good, The Bad and The Ugly.  And, of course, there were four "Dirty Harry" films, Dirty Harry, Magnum Force, The Enforcer and The Dead Pool.
Eastwood also added directing to his list of talents.  Some of the many films he both directed and starred in are Heartbreak Ridge, The Bridges of Madison County, True Crime, and the blockbuster hit Million Dollar Baby which won four Oscars.
Eastwood is one of two people that have been nominated twice for Best Actor and Best Director for the same film.  For Eastwood the films were Unforgiven and Million Dollar Baby.  Warren Beatty is the other actor/director to win twice with Heaven Can Wait and Reds.
According to "Harry Callahan", "A man's got to know his limitations".  Doesn't seem Clint Eastwood has many.