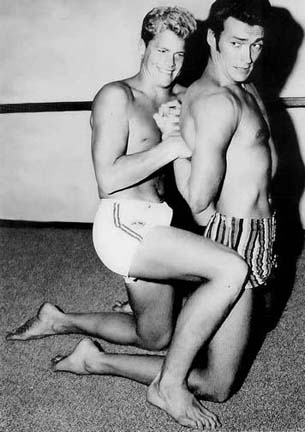 Don't Ask
He was born Douglas Osborne McClure in Glendale, CA and was a blond haired hunk with a smile that could stop you heart.  His boyish good looks allowed him to play 20ish roles well into his late 40s.  In his early career he appeared on dozens of television series' episodes such as Death Valley Days, Maverick, Mackenzie's Raiders and Overland Trail. He was given the part of "Jed Sills" in the critically acclaimed detective series Checkmate which also starred Anthony George and Sebastian Cabot.  The series ran for two seasons and was praised for the intelligence of the writing and the outstanding performances.
McClure eventually became well known for his portrayal of "Trampas" in the western series The Virginian.  The show, which ran for nine seasons, also starred James Drury in the lead role as "The Virginian" and Lee J. Cobb as "Judge Henry Garth".
After The Virginian, McClure's career was never as successful.  For the last couple of years of his life he was fighting cancer but continued to work appearing in an episode of Maverick, the film Riders in the Storm and one episode of the TV series Kung Fu: The Legend Continues which didn't appear until after his death from lung cancer.