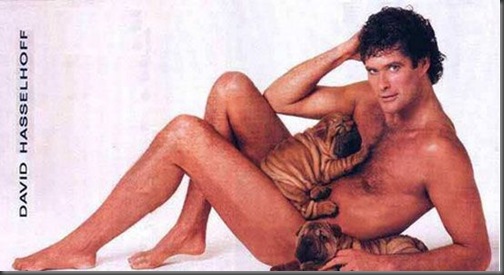 David Hasselhoff and Friend
He was born David Micheal Hassellhoff in Baltimore, MA.  You know him from Knight Rider, Baywatch Nights and Baywatch.  And, of course, David Hasselhoff also played "Michael Knight" in the made for TV film Knight Rider 2000 and in one episode of the short-lived 2008 revival of Knight Rider.  He can be seen in the film short To Live and Dine in L. A. and will appear in the film The Legend of the Dancing Ninja, co-starring Lucas Grabeel.
In addition to his acting, David Hasselhoff is a major recording artist in Europe.  He attempted to break into the American music scene with a recording of Do You Love Me? but didn't fare too well.  His second attempt was a live pay per view concert.  Unfortunately, it didn't receive a lot of attention because it took place at the same time OJ Simpson was doing his famous L. A. freeway car chase.