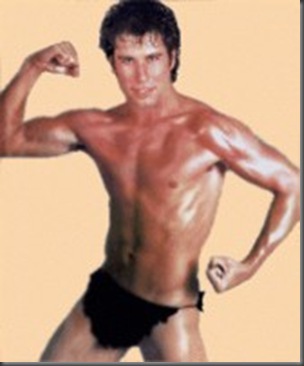 Him Tarzan. You droolin'.
From disco king "Tony Manero" in Saturday Night Fever, to greaser "Danny Zuko" in Grease, "Vinnie Barbarino" in Welcome Back Kotter, "Bud" in Urban Cowboy, "Vincent Vega" in Pulp Fiction, "Chili Palmer" in Get Shorty and Be Cool,  "Archangel Michael" in Michael, "Sean Archer/Castor Troy" in Face Off, "Woody Stevens" in Wild Hogs, "Edna Turnblad" in Hairspray and "Ryder" in The Taking of Pelham 123, John Travolta, born John Joseph Travolta in Englewood, NJ, has the talent to play any role from sexy to funny, to menacing, to humble everyday guy and more.  He is, indeed, one of the most talented stars to ever come along.
Here's a quote from John Travolta:  "I was just thinking of James Dean and Marilyn Monroe and how young they were when they died.  I would like to be a pop icon who survives.  I would like to be a living icon".  Well, you have absolutely achieved your goal!