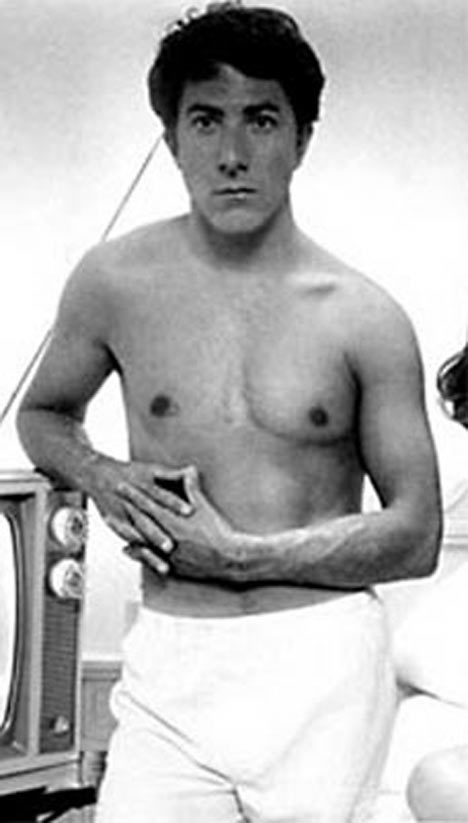 Mrs. Robinson's boy toy
Dustin Lee Hoffman, born in Los Angeles, CA began his acting career doing small parts in various television series.  His debut into the big screen world was in a film titled The Tiger Makes Out.  It was followed by his breakthrough role of "Ben Braddock" in The Graduate and  Hoffman's acting career has flourished ever since.  He was nominated for a Best Actor Oscar for his portrayal as "Ratso" in Midnight Cowboy and won the award for Best Actor in Rain Man and Kramer vs Kramer.
Not willing to be typecast he took on a variety of difficult roles.  Among them  "Ratso" in Midnight Cowboy,  "Raymond Babbitt" in Rain Man, "Michael Dorsey/Dorothy Michaels" in Tootsie, "Captain Hook" in Hook, "Charles Frohman" in the biopic of James Barrie author of Peter Pan in the film Finding Neverland and as 243 year old "Mr. Edward Magorium" in the fantasy film Mr. Magorium's Wonder Emporium. He will soon appear as "Bernie Focker" in Meet the Fockers Sequel which will be released in July of 2010.
On how he became an actor, Dustin Hoffman said, "I wanted to be a jazz pianist, but I wasn't good enough.  I got into city college because I didn't have the grades to get into university.  I took acting because it was a way to get three credits.  I just needed three credits and my friend told me to take acting because it was like gym- nobody fails you.  I took it and that's literally how I got involved in acting."  Lucky for us!