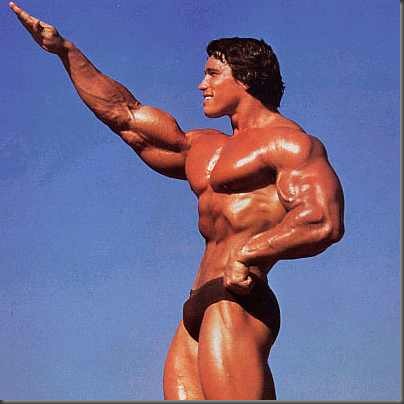 Arnold Schwarzenegger Shirtless.   "Ah'll be back"
Arnold Alois Schwarzenegger was born in Thal, Styria, Austria and began weight training when he was 15.  He won the Mr. Universe title when he was 22 and the Mr. Olympia title seven times.
Schwarzenegger's first appearance on film was in the low budget Hercules in New York.  His next film, Stay Hungry won him a Golden Globe Award for Best Acting Debut.  Eventually, he did the two "Conan" films, Conan the Barbarian and Conan the Destroyer, which really gave a boost to his acting career. No doubt, The ""Terminator" films, The Terminator, Terminator 2:  Judgment Day and Terminator 3:  Rise of the Machines became Arnold Schwarznegger's most popular films.   There  were several other films including Red Sonja, Commando, Predator,  The Running Man, Total Recall, Last Action Hero, Collateral Damage and Batman & Robin. He turned his talents to light comedy in Twins, Kindergarten Cop and True Lies.
The Guiness Book of World Records called Arnold Schwarzenegger "the most perfectly developed man in the history of the world".  Take a look at that picture if you have any doubts.