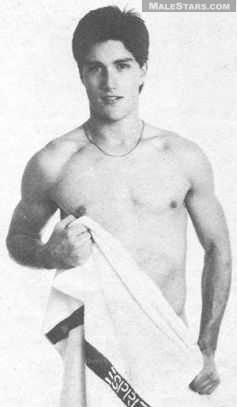 What do you suppose is behind that towel?
Matthew Chandler Fox was born in Abington, PA. An economics major at Columbia University, Fox, in a borrowed suit and shoes, applied for a job selling stocks on Wall Street.  He described the employees in the firm as "mid-20ss, Type A, go-getting wannabe Gordon Gekkos" and "so much testosterone flying around in all the wrong directions".  Fox quickly determined Wall Street was not for him and turned to acting.
His first television appearance was in an episode of Wings and then landed the role of "Charlie Salinger" in the six-season drama Party of Five.  From there, he starred as "Frank Taylor" in the short-lived series Haunted, co-starred with Matthew McConaughey in the film We Are Marshall, and then on to the hit series Lost as "Jack Shephard".