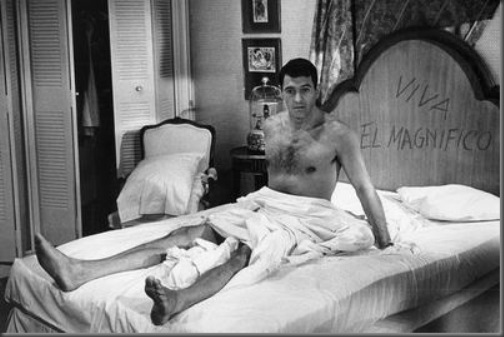 A Shirtless Rock Hudson is El Magnifico
 
Rock Hudson was born Roy Harold Scherer, Jr. in Winnetka, IL.   During his long and very successful career this 6' 5" handsome hunk appeared in more than 70 films.  From westerns to sentimental tear jerkers to light comedy Rock Hudson could do it all and do it well.
His first major success came when he in the role of playboy "Robert Merrick" in Magnificent Obsession.  His career continued to grow and flourish with films like Giant,  Something of Value and Twilight for the Gods.  He then turned to comedy in a trilogy of "Pillow Talk"  films with popular singer and actress Doris Day.  Although mainly a big screen actor, Hudson's six seasons on the television series McMillian & Wife was very popular.
Rock Hudson once said, "I can't play a loser-I don't look like one".  You got that right Rock!