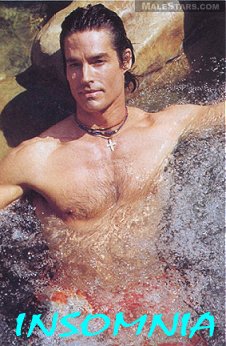 Simmering shirtless Ronn Moss
Ronald Montague Moss was born in Los Angeles, CA.  He has played "Ridge Forrester" on the daytime soap opera The Bold and the Beautiful. Moss has appeared in 2,090 episodes of the show beginning in 1987.  He also played "Count Dracula" in the comedy/thriller Her Morbid Desires, himself in the comedy/romance Christmas in Love and the voice of "Dr. Forrester" in the animated film Bolt.
In addition to his career as an actor, Ronn Moss is one of the original members of the band Player along with Peter Beckett, John "J.C." Crowley, and John Friesen.  The band was popular in the 70s and had a No. 1 hit with the song "Baby Come Back".  Moss left the band in 1981 but has recently recorded two solo albums with Peter Beckett.  Player's hit song "Baby Come Back" was used in the film Transformers and featured in commercials for Swiffer floor cleaners.