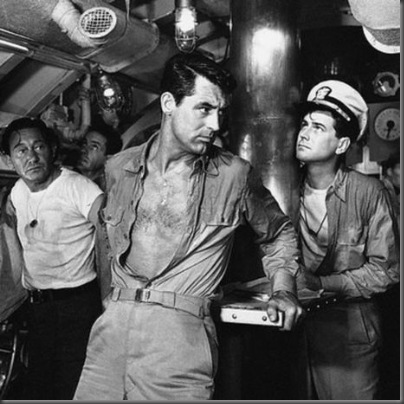 A shirtless Cary Grant in a scene from Destination Tokoyo
Cary Grant, was born Archibald Alexander Leach, (REALLY) in Bristol England.  He was the epitome of class; charming, elegant, sexy and funny.  He was named the second Greatest Male Star of All Time by the American Film Institute.
Grant's performance in the film, The Philadelphia Story, opposite Katherine Hepburn and James Stewart  established his most familiar on screen personality, that of the "charming if sometimes unreliable man, formerly married to an intelligent and strong-willed woman who first divorced him, the realized that he was-with all his faults-irresistible".
Of course, there were also all those Hitchcock films such as: Notorious, To Catch a Thief, and North by Northwest.  Alfred Hitchcock, who was well-known for disliking actors, said that Grant was "the only actor I ever loved in my whole life".  Really.  What's not to love about Cary Grant.