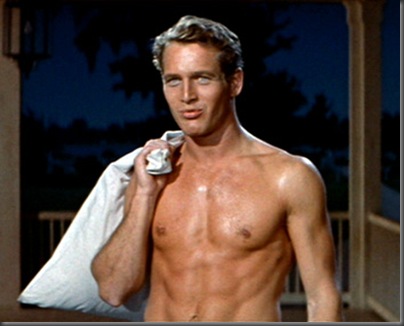 Paul Newman Shirtless in a scene from Sweet Bird of Youth
Paul Newman, born Paul Leonard Newman in Shaker Heights, Ohio, was handsome, sexy, talented and a great humanitarian.  Oh, and a race car driver and the owner of the most magnificent blue eyes to every gaze at you from the silver screen.
In an acting career that spanned  more than five decades he played in dozens of memorable films.  Who could forget"Brick Pollitt" in Cat on a Hot Tin Roof, "Eddie Felson" in The Hustler, "Chance Wayne" in Sweet Bird of Youth, "Luke" in Cool Hand Luke", "Butch" in Butch Cassidy and the Sundance Kid , "Henry Gondorff" in The Sting, and so many more.  One of his last performances was the voice of "Doc Hudson" in the animated film Cars.
Newman was everything you could ask for and so much more!