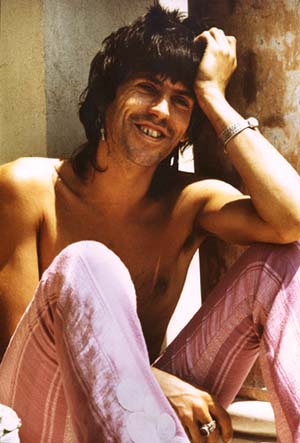 Born in Dartford, Kent, England, Keith Richards is a guitarist, songwriter, singer and a founding member of the Rolling Stones.  Rolling Stone magazine ranked him number ten in their 100 Greatest Guitarists of all Time.  He and Rolling Stones lead vocalist Mick Jagger have written hundreds of songs including the huge hit "Satisfaction".
The original members of the Rolling Stones (which formed in 1962) are Brian Jones, Ian Stewart, Mick Jagger, Keith Richards, Bill Wyman and Charlie Watts. Richards and Jagger remain with the band which now includes guitarist/bassist Ronnie Wood, and drummer Charlie Watts.
Keith Richards was described by rock critic Nick Kent as "..mad, bad, and dangereous to know."  Richards says of his image, "It's something you drag around behind you like a long shadow.  Even though that was nearly twenty years ago, you cannot convince some people that I'm not a mad drug addict.  So I've Still got that image in my baggage".