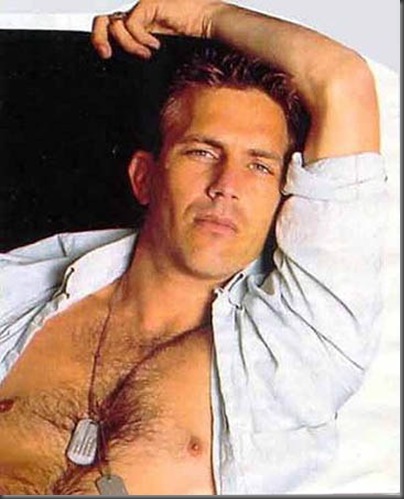 Kevin Costner Smokin', Sexy and Shirtless
Costner, born Kevin Michael Costner in Lynwood, CA, is an actor, producer, director, and musician. Musician? Yes. Costner is the singer in a rock/country band he founded called Kevin Costner and the Modern West.  He and the band went on a worldwide tour in 2007 and again in 2009.  An album titled Untold Truths was released in 2008.
Musician aside, Costner is better known as an actor and director.  His first hit film was Bull Durham followed by two more blockbusters, Field of Dreams and Dances with Wolves.  Next biggies were Robin Hood, JFK, The Bodyguard, and Tin Cup. .  Costner starred in and directed three films.  The first was Dances with Wolves which won seven Oscars with Costner receiving  awards for Best Director and Best Picture.  He was also nominated for, but didn't win, Best Actor in a Leading Role.  The next two were Waterworld (oops) and The Postman (oops).
Watch for Costner in the film The Company Men to be released in 2010.  This film also start Ben Affleck and Tommy Lee Jones.  Should be a good one!