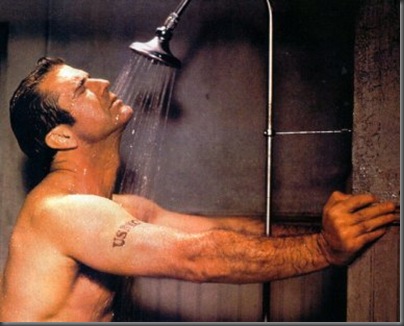 Shirtless Mel Gibson Cools His Hot Body in the Shower
Mel Gibson, born Mel Colm-Cille Gerard Gibson, in Peekskill, NY,  first came to the attention of American film-goers in an Australian made movie called Mad Max. His next film, also Australian-made, was Tim.  Gibson went on to do two more "Mad Max" movies and three Lethal Weapon films, all box office hits. 
Other of Gibson's films include Bird On A Wire co-starring Goldie Hawn,  The Bounty, co-starring Anthony Hopkins and The Patriot with Heath Ledger.
Gibson starred in, and directed, The Man Without a Face, and  Braveheart, for which he won an Oscar for Best Director.  Another Gibson-directed film, The Passion of the Christ,  was successful despite questions of historical accuracy and allegations of anti-Semitism.
Gibson has had an extremely successful career as actor, director, producer and sometimes writer of more than 40 films.