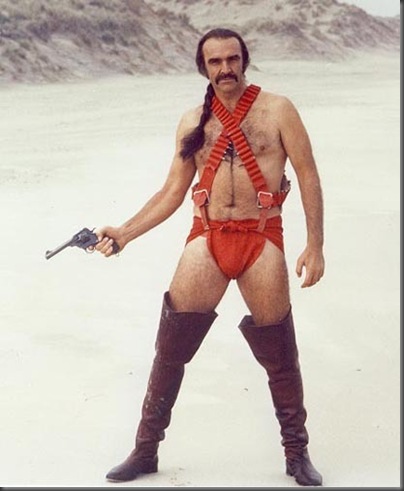 Sean Connery as "Zed" in sci-fi film Zardoz
Connery, born Thomas Sean Connery in Edinburgh, Scotland,  is undoubtedly best known for his role as "Bond, James Bond".  He was the definitive 007 and did seven Bond movies from Dr. No to Never Say Never Again. Connery appeared  in many other excellent  films such as:  The Wind and the Lion, The Man Who Would Be King, The Untouchables, Indiana Jones and The Last Crusade, The Hunt for Red October,and The Rock.
What was he thinking when he accepted the role of "Zed".  Evidently, Queen Elizabeth II is very forgiving or was completely unaware of Zardoz, because in July of 2000 he was knighted and became Sir Thomas Sean Connery.