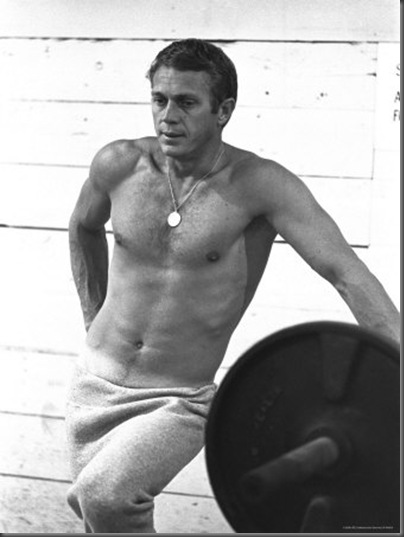 Steve McQueen Low Ridin' Sweats and Shirtless
Steve McQueen was born Terrence Steven McQueen in Juarez, Mexico. He  was known for being ultra-cool and was given the nickname "The King of Cool".
McQueen started doing guest roles in television series episodes until he landed the part of "Josh Randall: in Wanted:  Dead Alive  and was with the show for three seasons until it was cancelled.  From that point on he turned to films.  Among his best were The Great Escape, Love with the Proper Stranger, The Sand Pebbles, which earned him an Academy Award nomination as Best Actor, The Thomas Crown Affair, Bullit, The Reivers, The Getaway, Papillon and The Towering Inferno.
Steve McQueen once said of himself: "I am a limited actor. My range isn't that great and I don't have that much scope. I'm pretty much myself most of the time in my movies and I have accepted that".  Well, Steve McQueen, seeing you being yourself was an honor for those of us who loved your films!