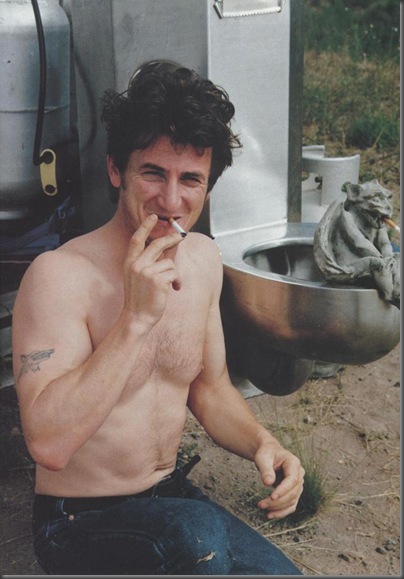 Sean Penn Shirtless and Sharing a Smoke Break with a Friend
Sean Justin Penn was born in Santa Monica, CA.  His first major film appearance was as "Cadet Captain Alex Dwyer" in Taps.  Next came the unforgettable  "Jeff Spicoli" in Fast Times At Ridgemont High.  Penn left his fast-talking/surfer/stoner personae behind when he played "Daulton Lee" in the spy thriller The Falcon and the Snowman.
From there he has given several  outstanding performances in films such as Colors, We're No Angels, with Robert De Niro, Carlito's Way, with Al Pacino, Dead Man Walking, The Game, and The Thin Red Line.  Penn won Oscars for Best Actor in a Leading Role for his performance in Mystic River, and, as Harvey Milk, California's first openly gay elected official, in the 2008 film Milk.
He has said of Clint Eastwood, "He's one of the few legends who isn't a disappointment."  I think we would all agree that Sean Penn is another.