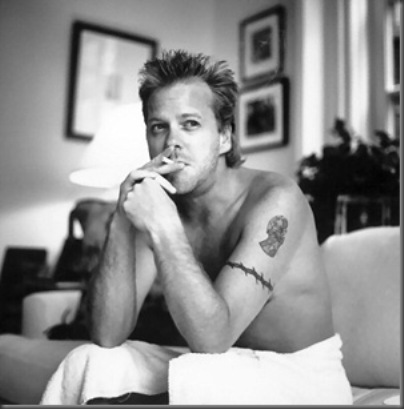 Shirtless and Smokin' in more ways than one

Born Kiefer William Fredrick Dempsey George Rufus Sutherland (no I did not make that up) in London, England, he dropped the rest and became just Kiefer Sutherland.   One of his early roles was "Ace Merrill" in the film Stand By Me which was based on a Stephen King novella called The Body.  He was "David" in the vampire film The Lost Boys, "Josiah Gordon 'Doc' Scurlock" in Young Guns and Young Guns II, "Nelson" in Flatliners, and "Det. Jack Vincennes" in L A Confidential.  Sutherland is currently starring as "Jack Bauer" in the highly successful and long-running television series 24.
When commenting on his career during the 1990's Kiefer Sutherland stated:  "You could say I was not on everybody's first list to do the bigger films.  Luckily, other opportunities have come along"."  Turns out it's lucky for us, too.