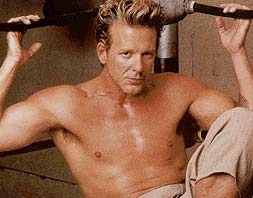 Shirtless Mickey Rourke Working Out
Mickey Rourke was born as Phillip Andre Rourke, Jr. in Schenectady, NY and made his film debut in the Steven Spielberg film 1941. Although his role in Body Heat was small, it caught the attention of critics.  He co-starred with Matt Dillon in Rumble Fish which was a follow-up to The Outsiders. Rourke became a "sex symbol" when he starred opposite Kim Basinger in 9 ½ Weeks and received, critical acclaim as alcoholic writer "Henry Chinaski" in Barfly. He was "Harry Angel" with Robert De Niro as "Louis Cyphre" in Angel Heart, "Harley Davidson" in Harley Davidson and the Marlboro Man, and "Bruiser Stone" in The Rainmaker.  Rourke was nominated for an Academy Award for his lead role as "Randy" in the 2008 film The Wrestler.  He will play alongside Robert Downey, Jr. in Iron Man 2 to be released in May of 2010.
Mickey Rourke said, "I always thought I'd accomplish something special.  Like robbing a bank."  Hmmm.  Very interesting.