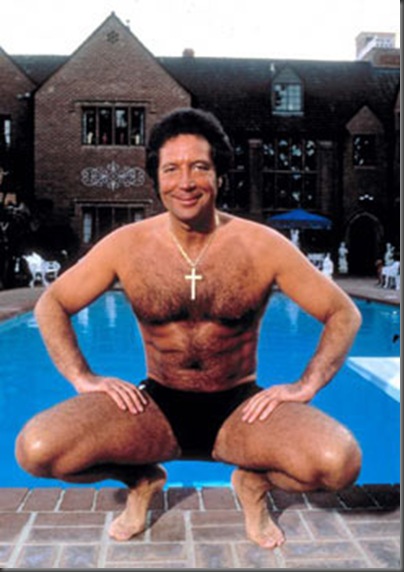 Sexy shirtless Tom Jones Poolside
Thomas Jones Woodward is a Welsh born singer whose recordings have sold over one million copies.  His debut song was Chills and Fever followed six months later by his signature song It's Not Unusual.  His most successful single was Green, Green Grass of Home. Other hits include Help Yourself, Delilah, Without Love, I'll Never Fall in Love Again and She's a Lady Jones was the first male singer to perform an opening credits song in a James Bond movie.  The song was Thunderball.
Tom Jones also had his own television variety shows:  This Is Tom Jones and The Tom Jones Show, and was awarded Knighthood in 2006 for his service to music.
So, What's New Pussycat?