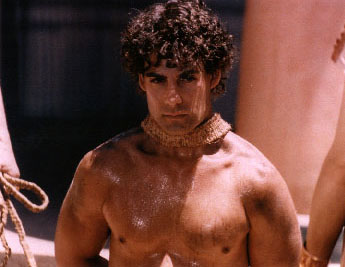 Before he became a "Hero" Adrian Pasdar was enslaved
Kayvan Pasdar was born in Pittsfield, MA.  When he auditioned for a part in Top Gun, Director Tony Scott was so impressed that the part of "Chipper" was written into the movie for him.  Bigger roles in films like Solarbabies, Streets of Gold and Near Dark followed.  Pasdar  played the lead role of "Jim Profit" in the TV series Profit, "Declan Dunn" in Mysterious Ways, "ADA David McClaren" in Judging Amy and lawyer "David Bradley" in Desperate Housewives.  He currently portrays "Nathan Petrelli" on the Sci-Fi/drama Heroes.
Adrian Pasdar is married to Dixie Chicks member Natalie Maines.