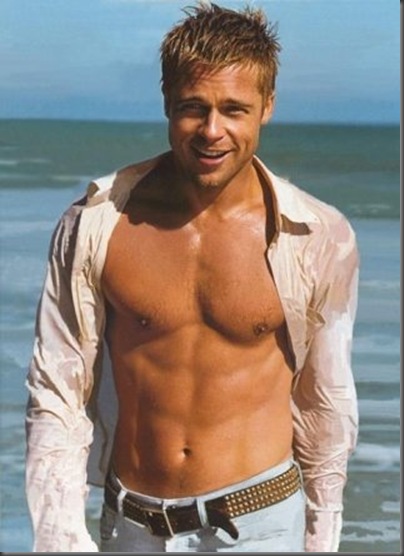 They don't come any sexier than Brad Pitt Shirtless
Brad Pitt, born William Bradley Pitt in Shawnee, OK,  is one of Hollywood's all time sexiest actors.  His role as "J. D." in Thelma and Louise gained him recognition, established him as a sex symbol, and helped him land roles in big-budget movies like A River Runs Through It, Interview with the Vampire, Legends of the Fall, Seven, and Twelve Monkeys.  He has starred in Ocean's Eleven, Ocean' s Twelve and Ocean's Thirteen along with another Hollywood sex symbol, George Clooney.
Brad Pitt's role as "Achilles" in the film Troy and "John Smith" in Mr. & Mrs. Smith were his biggest commercial successes.  He has been nominated for numerous awards and won two for his supporting role in Twelve Monkey's.
A quote from Brad Pitt:  "Success is a beast.  And it actually puts the emphasis on the wrong thing.  You get away with more instead of looking within."  Well, when it comes to you, looking at the outside isn't such a bad thing.