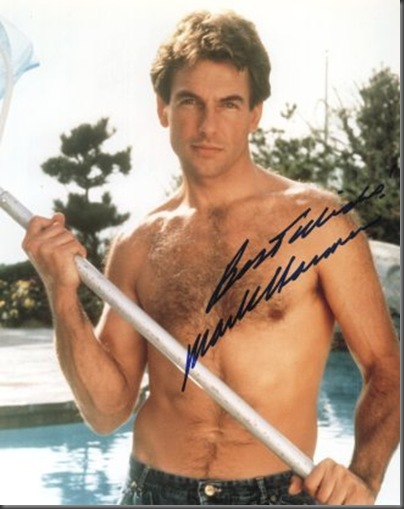 Mark Harmon-shirtless- holding his pole by his pool
Thomas Mark Harmon came to this earth in Burbank, CA.  His father is University of Michigan football All-American and Heisman Trophy winner, Tom Harmon.
Mainly a television personality, Harmon has done recurring guest star roles on series such as Flamingo Road, St. Elsewhere, Moonlighting, Reasonable Doubts, Chicago Hope, and The West Wing. He is currently playing the role of "Special Agent Jethro Gibbs" on Navy NCIS.
Before becoming an actor Mark Harmon was a carpenter.  He says it is the only job other than acting that he looked forward to going to every morning because "you're doing something different every day".  Acting was possibly a better choice, though.  It probably pays more.