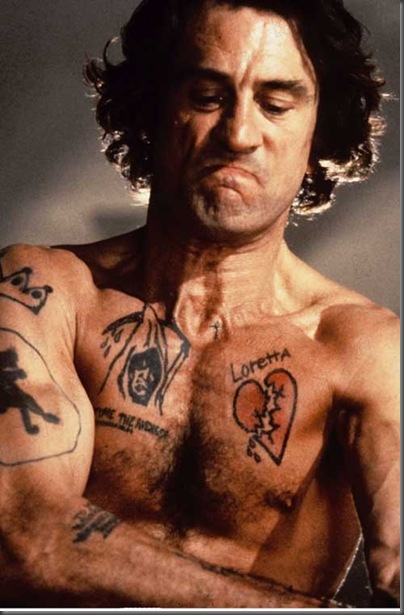 A menacing, shirtless Robert De Niro in a scene from Cape Fear
Robert De Niro was born Robert Mario De Niro, Jr. in New York City.  If there is an acting style that De Niro hasn't played, and played extraordinarily well, it hasn't been invented.
A heart rending performance as terminally ill "Bruce Pearson"  in Bang the Drum Slowly, murderous psychopath "Travis Bickle" in Taxi Driver,  Viet Nam soldier "Michael" in The Deer Hunter,  boxer "Jake La Motta" in Raging Bull, "Al Capone" in The Untouchables, "Leonard Lowe" in Awakenings, "Jack Byrnes" in Meet the Parents. So many Grade A+ performances and never enough space.
He could terrify you, make you cry or make you laugh and sometimes all three in the same movie. Robert De Niro said, "The talent is in the choices".  Seems he has made all the best ones.