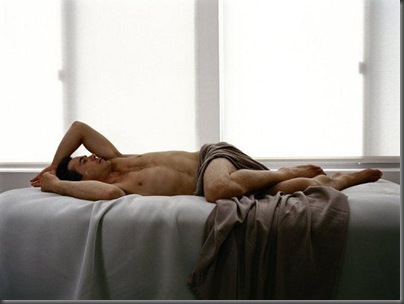 Spread on a bed a provocative nude Robert Downey, Jr
Robert Downey, Jr.,  born Robert John Downey, Jr. in New York City, became a member of the famed  "Brat Pack" when he appeared in films such as Less Than Zero and The Pickup Artist.  His performance in these films led to parts in bigger films like Air America, Soapdish and Chaplin  which won him an Academy Award nomination for Best Actor.
It is true that Downey had his problems with alcohol and drugs but he finally got his life back on track and made a stunning comeback as the title character in the film adaptation of  Marvel Comics Iron Man.  The film made almost $100 million in US box offices on its opening weekend and garnered Downey rave reviews for his performance. After appearing in Tropic Thunder he received his second Oscar nomination, this time as Best Supporting Actor.
Robert Downey is quoted as having said:  "The lesson is that you can still make mistakes and be forgiven".  Take a look at that picture and you can't help saying, "Robert Downey, Jr. you are gorgeous and we forgive you"!