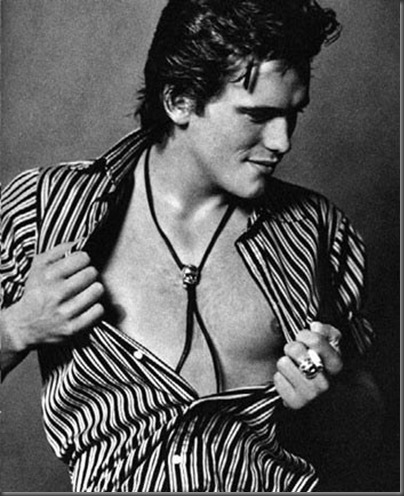 What a tease you are Matt Dillon.  Show us more!
Matt Dillon, who was born Matthew Raymond Dillon in New Rochelle, NY, started his film career as a teen star,  most often in role of troubled teens.  He acting debut was in a film titled Over the Edge followed by My Bodyguard, Little Darlings, and Liar's Moon.  His next three films, Tex, The Outsiders (also starring Tom Cruise, Emilio Estevez, Rob Lowe and Patrick Swayze) and Rumble Fish made him the #1 US teen star.
As Dillon matured so did the characters he portrayed.  He played the duel role of "Chris Lloyd/Derek Potter" in Target. He received critical acclaim in the starring role in Drugstore Cowboy, a film dealing with drug addiction, and as a schizophrenic in The Saint of Fort Washington. Dillon played "Larry Maretto" in the thriller To Die For. Other Dillon films are Wild Things, There's Something About Mary and City of Ghosts, which he also wrote and directed.  He received a well deserved Golden Globe Award for Best Supporting Actor and an Academy nomination for his supporting role in the crime drama Crash.
Matt Dillon has said:  "There were certain perceptions that people had of me, you know…'He's dumb' or 'he's just got a pretty face' or 'he's a thug' or 'he can only do one thing'.'  I'm not so concerned with that now.  Longevity's what it's about."  A point you have certainly proved, Matt Dillon.