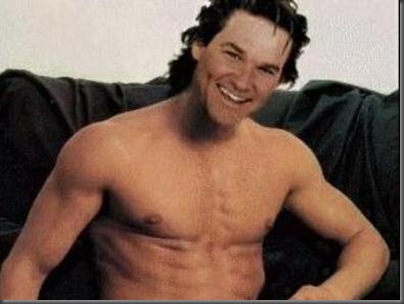 Kurt Russell shirtless makes us happy too
Kurt Russell was born as Kurt Vogel Russell in Springfield, MA and began his career as a child actor at the age of ten in the Elvis Presley film It Happened at the World's Fair.  As a child he had recurring roles in many television series such as Sugarfoot,  The Travels of Jamie McPheeters, and Daniel Boone.  Some of the many films the adult Russell appeared in are:  Silkwood,  Swing Shift,  Overboard, Tequila Sunrise, Tango & Cash, Backdraft, Forest Gump, 3000 Miles to Graceland, Vanilla Sky and Dark Blue.
Kurt Russell played pro baseball as a 2nd baseman for the AA club California Angels but was forced to retire from the game because of a torn shoulder muscle.  Well, baseball's loss is our gain!