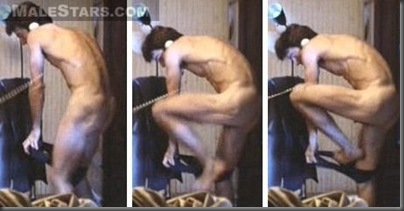 See?!  Even famous stars put their pants on one leg at a time.
Dennis William Quaid hails from Houston, TX and has appeared in over 60 films.  Breaking Away was his first major film and his role as "Gordon Cooper" in the film about the original US Mercury 7 astronauts, The Right Stuff, earned him excellent reviews.  His portrayal of Jerry Lee Lewis in Great Balls of Fire! also won him critical acclaim.  Dennis Quaid played "Doc Holliday" in Wyatt Earp and "Frank Whitaker" in Far From Heaven which co-starred Julianne Moore.  He has also starred in The Parent Trap, Yours, Mine and Ours, and Smart People opposite Sarah Jessica Parker.  Quaid will appear in the fantasy/horror film, Legion, to be released in January of 2010. In a film titled The Special Relationship, he will play the role of ex-President Bill Clinton, with Michael Sheen as Tony Blair, Helen McCory as Cherie Blair and Hope Davis as Hillary Clinton. The film won't be released until 2011.
In addition to being a fine actor Dennis Quaid is also a musician and wrote songs for three of his films:  The Night the Lights Went Out in Georgia, Tough Enough and The Big Easy. He also performs occasionally with his band "Dennis Quaid and the Sharks".  Quite an accomplished guy!