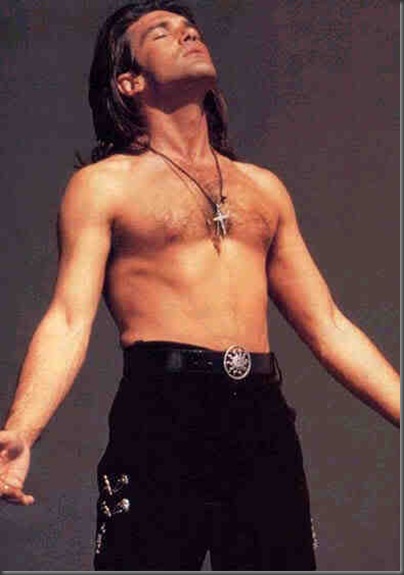 A shirtless Antonio Banderas looking mystical
Antonio Banderas, whose birth name is Jose  Antonio Dominguez Banderas was born in Malaga, Spain.  He began his career in Spain at age 19 where he worked on films from 1982 to 1990.  One of the first American films Banderas appeared in was Academy Award winning Philadelphia.  He quickly became known as a handsome Latin leading man and starred in Desperado, Evita, opposite Madonna, The Mask of Zorro, with Anthony Hopkins, Once Upon a Time in Mexico, with Johnny Depp and Salma Hayek, and Thick As Thieves co-starring Morgan Freeman.  Banderas has also done the voice of "Puss in Boots" in the animated Shrek Films.  A new film in the Shrek series, Shrek Forever After, will be released in 2010 and "Puss in Boots" will be having his own film sometime in 2011.
Antonio Banderas said he gets more attention from women as "Puss in Boots" than he did as "Zorro".  Never fear, Antonio Banderas we love you for your magnificent self.