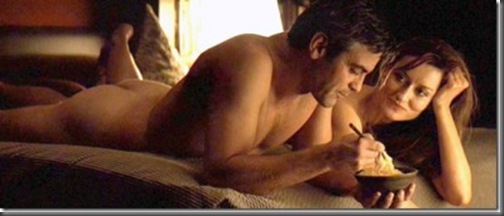 George Clooney Eating Ice Cream In The Nude.  Yum!
George Clooney was born George Timothy Clooney in Lexington, KY.    Early in his career he appeared in a couple of B grade horror films:  Return to Horror High and Return of the Killer Tomatoes.  Clooney made several guest appearances on the television sitcom Roseanne as "Brooker Brooks" But his star really rose as "Dr. Doug Ross" in the TV medical drama ER. Clooney remained in the role from 1994-1999 and made a return appearance on the show's series finale in 2009.
George Clooney has so many acting, directing and producing credits to his name that it would take forever to list them all.  Among his many memorable films are Batman & Robin as "Bruce Wayne/Batman", Oh Brother, Where Are Thou? as "Ulysses Everett McGill", as "Danny Ocean" in Ocean's Eleven, Ocean's Twelve and Oceans Thirteen.  Clooney starred as "Fred Friendly" in Good Night, and Good Luck, as "Michael Clayton" in the film by the same name, and, most recently, as Lyn Cassady" in The Man Who Stared At Goats.
Clooney is happy doing commercial, entertaining films but also likes to stir thing up a bit with more controversial films like Three Kings and Good Night, and Good Luck.
According to Clooney he would "rather have a rectal examination on live TV by a fellow with cold hands than have a Facebook page!"  Bet that would be number one in the TV ratings, George!!