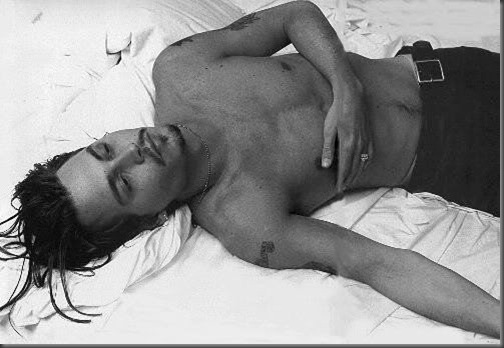 Doesn't come much sexier than Johnny Depp Shirtless
Johnny Depp was born John Christopher Depp II in Owensboro, KY.  If there' an offbeat role in an offbeat film Johnny Depp has done it and will do it again.  His role as "Officer Tom Hanson" on 21 Jump Street made him a teen idol, a status Depp was very much irritated by,  so he created a place in the film industry that was all his own, one that is unconventional, somewhat eccentric, and so wonderful to see.
His choice of roles consistently surprise and delight his audience.  Roles like "Edward Sissorhands, "Sam" in Benny & Joon,  "Gilbert Grape" in What's Eating Gilbert Grape , "Ichabod Crane" in Sleepy Hollow, "Willy Wonka" in Willy Wonka and the Chocolate Factory, and, of course, "Jack Sparrow" in three Pirates of the Caribbean films.
Johnny Depp doesn't just portray fictional characters but has also played people from real life like Edward Wood, Jr, Donnie Brasco/Joseph D. Piston in Donnie Brasco, Jack Kerouac iin The Source, George Jung in Blow, Hunter Thompson in Fear and Loathing in Las Vegas and John Dillinger in Public Enemies, all men who are pretty unconventional themselves.  This is just a short list of the many great films of Johnny Depp.
Johnny Depp said. "I don't pretent to be captain weird.  I just do what I do".  And we are all extremely happy that you do!