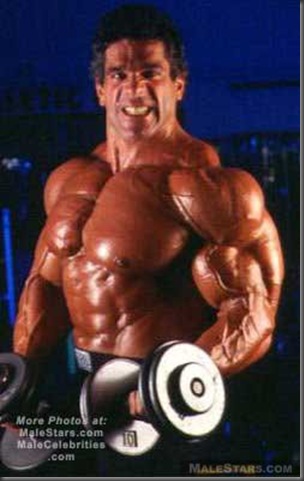 Shirtless Hulk is a real hunk
Louis Jude Ferrigno was born in Brooklyn, NY and began body building at age 13.  Bodybuilder/actor Steve Reeves was one of his role models.  Ferrigno's attempt to beat Arnold Schwarzenegger in the Mr. Olympia competition was the subject of the documentary Pumping Iron.
Landing the role of "The Incredible Hulk", alter-ego of "Dr. David Bruce Banner" played by Bill Bixby, brought Ferrigno to the attention of the general public.  The show ran for 5 seasons and gave rise to three Incredible Hulk television movies and an animated series in which Ferrigno did the voice of "The Hulk".
Here's an interesting piece of trivis:  The snarls and growls heard coming from "The Hulk" weren't made by Lou Ferrigno.  For the first two seasons, Ted Cassidy ("Lurch" on The Adams Family) made the sounds.  After Cassidy's death, the credit goes to Charles Napier for the remaining seasons the the three "hulk" movies.