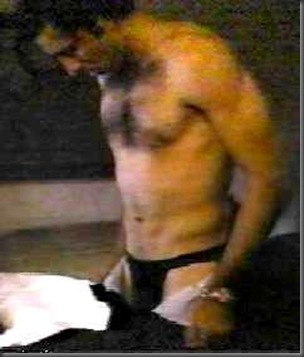 Yes, Nicholas, everything is still there.  No need to look so concerned.
Nicolas Cage was born Nicolas Kim Coppola in Long Beach, CA. and is the nephew of famous director Francis Ford Coppola.  He changed his name to Cage to have the chance to develop his own reputation.  And he has been extremely successful.  Many of the characters he plays are quirky, eccentric and flamboyant.  Characters like "H. I. McDunnough" in Raising Arizona, "Ronnie Cammareri" in Moonstruck opposite Cher, "Cameron Poe" in Con Air, "Castor Troy/Sean Archer" in Face/Off, co-starring John Travolta, and  "Ben Gates" in National Treasure and National Treasure:  Book of Secrets.  Cage won an Oscar for his portrayal of broken alcoholic Hollywood screenwriter "Ben Sanderson"  in Leaving Las Vegas.
Nicolas Cage is as quirky, eccentric and flamboyant in real life as the characters he plays.  He once said:  "Hollywood didn't know if I was an actor or a nut or if I was this crazy character I was playing.  I had developed an image of being a little bit unusual, different and wild."   And that, folks, is what makes him the great actor he is.