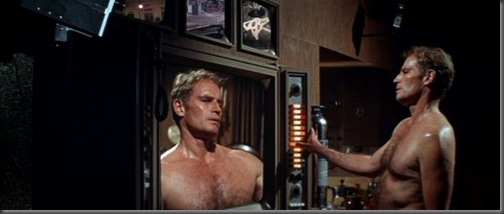 Charleton Heston checking out his shirtless chest.
Charlton Heston was born John Charles Carter in No Man's Land, IL.  He may be best known for playing heroic characters in epic films such as "Moses" in The Ten Commandments, "Colonel George Taylor" in the Planet of the Apes, "Rodrigo Diaz de Vivar" in El Cid and "Judah Ben-Hur" in Ben-Hur a role that won him a Best Actor Academy Award.  Among many other awards and honors,won by Heston are a Golden apple Award, the Cecil B DeMille Award, and two Lifetime Achievement Awards.
In speaking of the variety of roles he has done Charleton Heston once said:  "I've played cardinals and cowboys, kings and quarterbacks, presidents and painters, cops and con-men".  Just goes to show how multi-talented he is!