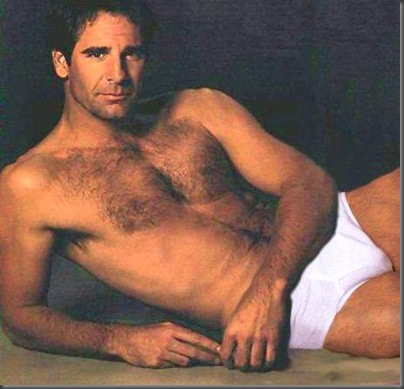 Scott Bakula gazing right into your eyes with no shirt and some very brief briefs
St. Louis born Scott Stewart Bakula is an actor of both film and television.  He may be best know for his role as "Sam Beckett" on the television series Quantum Leap.  He was with the show during its five seasons and his performance won him a Golden Globe Award for Best Actor in a Television Series Drama and four Emmy nominations.  He also played the starring role of "Captain Jonathan Archer" in four seasons of Enterprise, a prequel to the Star Trek series.
Scott Bakula has made recurring appearance on many TV series episodes such as:  Murphy Brown,  Chuck, and The New Adventures of Old Christine.  He is currently on a new series called Men of a Certain Age, also starring Ray Romano.
Here's an interesting quote from Scott Bakula:  "I like fantasy.  I've always been the kind of kid who likes to dream about other things I could be and exotic situations I could be in."  I'm thinking the picture above just might drum up some fantasies of its own.