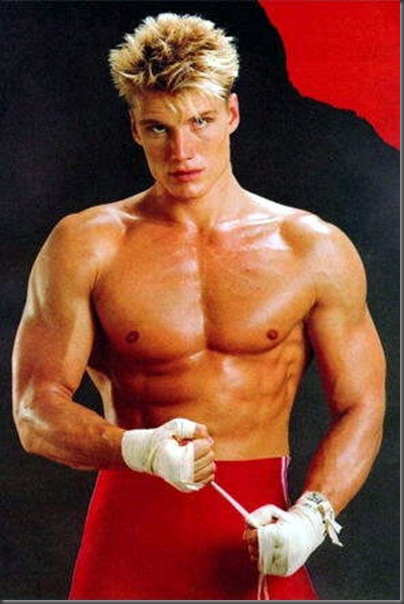 Shirtless Dolph Lundgren showing his magnificent muscles
Dolph Lundgren was born in Stockholm, Sweden.  He is an actor who embodies the "action hero" genre along with others like Sylvester Stallone, Arnold Schwarzenegger, Steven Seagal and Jean-Claude Van Damme.  Although he has a master's degree in chemical engineering and was offered a Fulbright scholarship to attend MIT, Lundgren chose to study martial arts and turned his achievements in body building and Japanese Karate into a successful film career.
Dolph Lundgren's film debut was in the James Bond film A View to a Kill.  His big break came as the Russian opponent "Ivan Drago" in Rocky IV. He starred opposite Jean-Claude Van Damme in Universal Soldier and with both Van Damme and Sylvester Stallone in Universal Soldier:  Regeneration.
Dolph Lundgren said:  "My problem is that people get intimidated by someone big and beautiful like me.  They hate to think I can be smart as well."  Whatever you say Dolph.  I, for one, don't wish to argue the point.