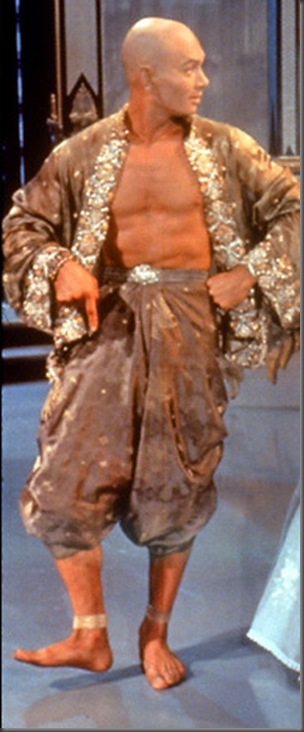 A Shirtless Yul Brynner Shines and Sparkles
Yul Brynner, born Yuli Borisovich Bryner in Vladivostok, Primorsky province, Russia had the exotic shaved head look long before it became popular.  Although he played many different roles, from gunslinger "Chris Adams" in The Magnificent Seven and Return of the Seven, a Cossack soldier in Tauras Bulba, a spy in The Double Man, "Chief Black Eagle in the film Kings of the Sun and Mexican bandit "Pancho Villa" in Villa Rides, Yul Brynner will always be remembered as the somewhat petulant, often demanding "King Mongkut" in the Rogers and Hammerstein musical The King and I.  He played the role on both the stage and screen and won an Academy Award for his film portrayal and a Tony Award for his stage performance.
It is said that Yul Brynner always prepared breakfast while wearing a silk kimono.  Seeing that would sure make a breakfast eater out of me.