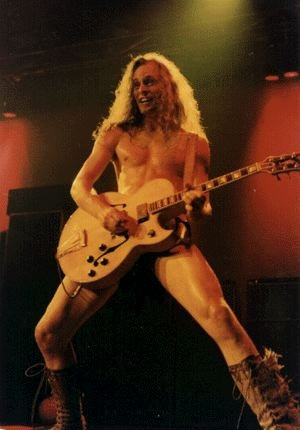 Theodore Anthony "Ted" Nugent, hard rock/heavy metal guitarist, was born in Detroit, MI.  He joined the rock band The Amboy Dukes in 1964.  The band is best remembered for their hit single "Journey to the Center of the Mind".  The song was about hallucinogenic drugs and the feeling of an acid trip. Nugent, who never did drugs and was an anti-drug campaigner, claims that he never realized the song was about drug use.
After leaving The Amboy Dukes in 1975, Nugent pursued a solo career.  His backup band consisted of Derek St. Holmes, Rob Grange, and Clifford Davies.  Together with Nugent, they released three multi-platinum albums: Ted Nugent, Free-for-All, and Cat Scratch Fever. Near the end of the 1980s he formed Damn Yankees.  The members, which included Jack Blades, Tommy Shaw, and Michael Cartellone were already famous rock musicians.  The band was a hit, selling 5 million album s.  Nugent returned to a solo career releasing the album Spirit of the Wild in 1995.  In 2009 Ted Nugent reunited with members of the Amboy Dukes at the Detroit Music Awards where they received a distinguished achievement honor.  They also played together at the ceremony.  It was their first public performance in more than 30 years.
During his lengthy career, Nugent has released more than 34 albums, soled more than 30 million records and done more than 6,000 concerts. He announced his "Trample the weak, hurdle the dead" tour in April 2010.  Tour dates are still being finalized.