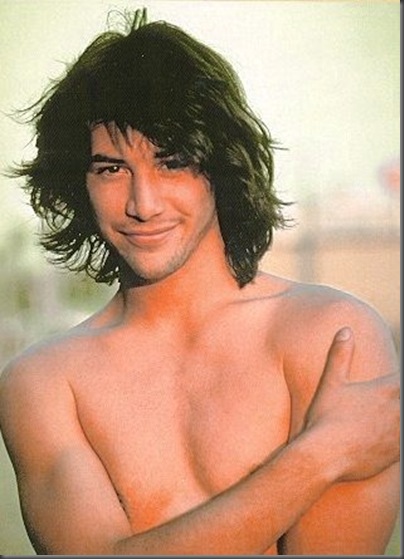 How cute is Keanu Reeves and he's shirtless, too
Keanu Reeves was born as Keanu Charles Reeves in Beirut, Lebanon.  He began his career when he was nine as part of a theater production of Damn Yankees and, at 15, played Mercutio in a stage production of Romeo and Juliet.
Reeves' first major film appearance was in Youngblood, also starring Rob Lowe and Patrick Swayze.  He received positive reviews for his portrayal of "Le Chevalier Raphael Danceny" in in the Oscar Award winning film Dangerous Liaisons.  He was "Ted Logan" in the fun films Bill & Ted's Excellent Adventure and Bill & Ted's Bogus Journey, "Tod Logan" in Parenthood, and "Johnny Utah", opposite Patrick Swayze, in Point Break.  His most recent film is Henry's Crime to be released in 2010.
Keanu is a Hawaiian name meaning "cool breeze over the mountain".  Well, Keanu Reeves, you've been a cool breeze for all of us.