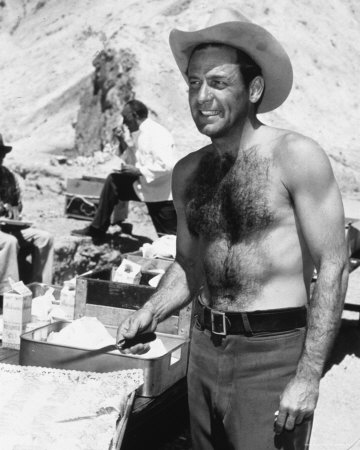 Looks like a shirtless William Holden is having a Picnic
Major film star, William Holden, was born William Franklin Beedle, Jr. in Santa Monica, CA.  His first starring role was in the film Golden Boy with Barbara Stanwyck as his co-star.  After service in the Air Force, he returned to Hollywood and starred with Gloria Swanson in Sunset Boulevard.   Following Sunset Boulevard,  Holden appeared in a number of hit films including the romantic comedy Born Yesterday, opposite Judy Holliday and  Stalag 17 winning the Best Actor Oscar for his portrayal of "Sgt. J. J. Sefton" .  Holden again starred with Barbara Stanwyck  in The Executive Suite, with Grace Kelly in The Country Girl, with Jennifer Jones in Love Is A Many Splendored Thing, and Kim Novak in Picnic.  He played opposite Audrey Hepburn in two films:  Sabrina and Paris-When It Sizzles.  Holden starred as "Robert Lomax" in The World of Suzie Wong, as "Shears" in the Academy Award winning film The Bridge on the River Kwai and "Pike Bishop" in the western film The Wild Bunch.
William Holden once said:  "Take any picture you can.  One out of four will be good, one out of ten will be very good and one out of 15 will get you an Academy Award."  It took a few more than 15 films before he won a Best Actor Oscar but all of them were very good!